Blog Post 9: Laser Cutting
As Braddock S.E. – lecturer in textiles at Goldsmiths College, University of London – has said, in 'Techno Textiles' (1998), 'the ultimate challenge is to combine pure creativity with the computer…..aesthetic decisions can only be made by the artist'. I find this quote inspiring because of how I have and intend to use technology in the future, combined with my own creativity. Laser cutting has been one of my most exciting experiences as a fashion designer. Below is an image of laser cut, slate coloured, lightweight denim which I created to enhance an outfit.
First of all, when going through the process of laser cutting, I used a black felt tip pen to draw a leaf design onto white paper, which was bold and had many areas of black. I then scanned the drawing, which then led to producing a Vector illustration on Adobe Illustrator from it. To create different sized Vector illustrations, I had to change the scales on the software. Once doing this, I used this illustration to laser cut the leaf design onto materials.  I tried a soft textured material first but the laser cutter burnt it instead of cutting it. Then I tried a lightweight, slate coloured denim. The results were perfect and I intend to explore this much further in future projects. Laser cutting machines are wonderful at creating intricate patterns onto garments and jewellery. In my view, the laser cut leaves, on lightweight denim, which I created looked intricate and stunning. The results were beautiful, in my opinion, and I intend to explore laser cutting much further in future projects. I loved the intricate patterns created and have hence decided to do further research on this C.A.D. application.
Laser cutting is used for cutting various kinds of acrylic, textiles, fabric and plastic. Cutting a fabric through laser beams is becoming incredibly popular and in my view looks very exquisite too. The major advantages are that it gives clean edges and stops the fabric from becoming frayed. This ensures that the garments are durable and can be sold on a large scale to the public. No matter whether the fabric contains latex, rubber, cotton, silk, polyester and other synthetic weaves, laser fabric cutting is known for it's intricate details.
Below are some images linked to how laser cutting may be used to make garments and accessories look beautiful, as well as glamorous. They are inspirational and in my view make the garments and accessories look expensive. As I have a huge interest in Haute Couture, I feel laser cutting is a wonderful area for me to explore further in the future. It's exciting and many intricate patterns can be cut into fabrics.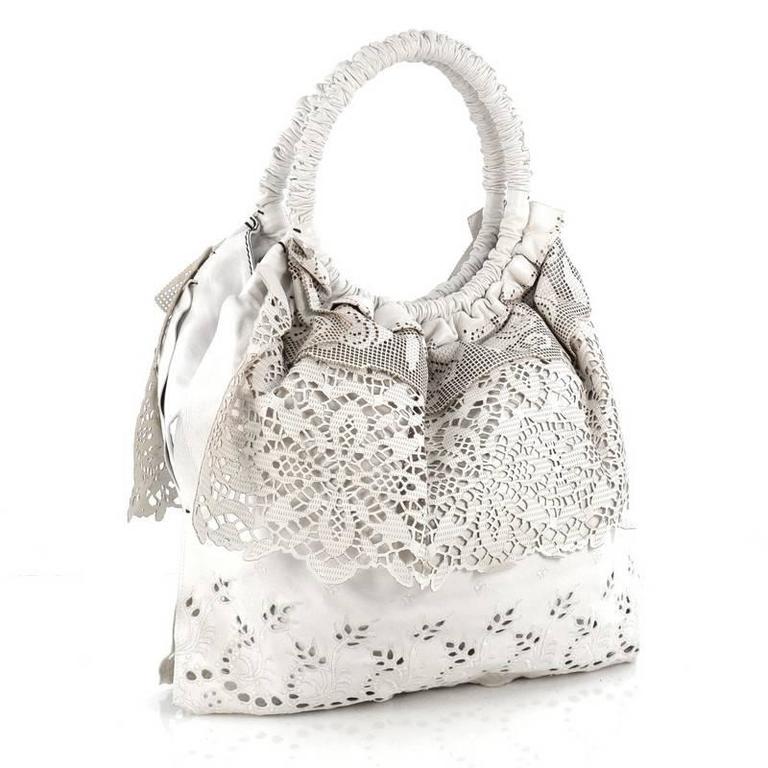 Below, laser cutting has been used on a metallic looking fabric and gives it a very new-age modern look. Bearing in mind that the 'Star Wars' movies has some influence at the moment and has indeed over many areas of fashion, this is a useful image to use as inspiration for my design work.
Whilst researching laser cutting designs, I was also impressed with how laser cutting could be used creatively in scarves and I would love to do this at some point. Laser cut scarves make a great clothing accessory and can transform any outfit, in my personal opinion. I for instance, feel that a scarf is a 'must have' in a wardrobe. They help towards making an outfit look feminine and beautiful. Below are images of laser cut scarves and I strongly feel that they are a head turner. Some firms offer laser cut scarf designs according to the individual needs of the client. I could have messages on them linked to modern day movements which have been created by a higher awareness of how we should be looking after the planet more. So, messages on the scarves could be linked to this. For example, there may be words and phrases such as 'respect', 'equality', 'save us' or 'let us live.'
Below is an image which has involved laser cutting and applique of pearls too. So, laser cutting can be merged with other textile methods to create beautiful pieces of fabric. Also, whilst looking at this image, I feel it could be used as inspiration for my main proposal because the delicate flower effect is relevant to my project's theme of looking after the planet. It is also relevant to the 1960s fashion which I love. 'Flower power' was a theme of the late 1960s and something which I would be happy to incorporate into my designs too. With design, we can always take aspects of the past but then make them feel contemporary because they will be mixed with current trends.
Below are some more images of laser cutting. When producing garment pieces such as these, much thought would have to go into the pattern cutting, as well as the laser cutting too. The advantage of these garments is that they look individualised, sophisticated and beautiful. The disadvantage of making these garments is that only a limited amount of people would have the talent and skills to know how to do this well. So, there would be cost and supply implications involved. If I had more time for my project, I could have cut out outlines of narrow leaf shapes rather than just straight lines. I think this would have looked really effective.
As we all know, jewellery is a wonderful way to accessorise an outfit and what better way to do it than with a necklace or a pair of dangly ear-rings which are bound to catch anyone's eye. Below is an image of a leaf which has been created by laser cutting metal. This could be made into a pendant for a beautiful necklace.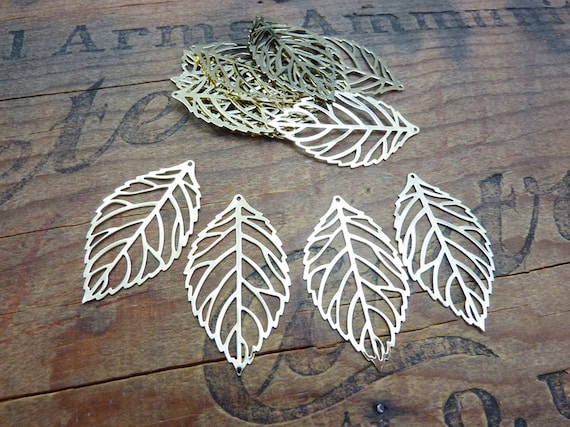 Below is an image of dangly ear-rings which have been created by laser cutting wood. Models displaying my collection at Fashion Show Live 2018 could use such accessories to enhance the outfits.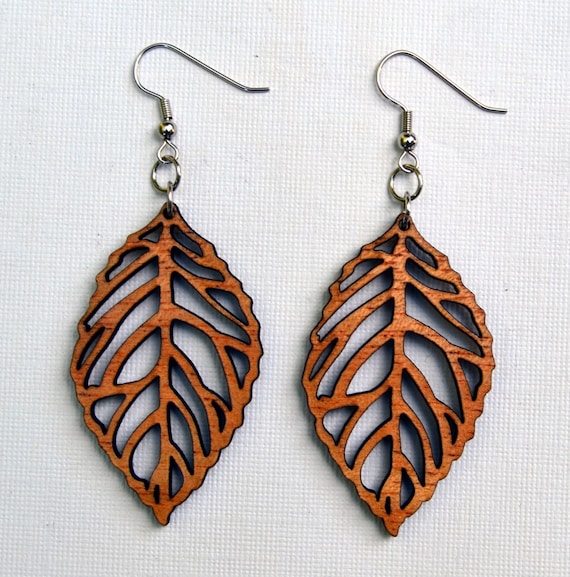 In the future, I would love to experiment with laser cutting for jewellery too.
So, to summarise, the advantages of using laser cutting include:
-Less man power is required. This is because the Laser cutting machines are integrated with a computer-controlled programming system which determines where and how the cut has to be made on the material.
-no fraying on materials and intricate patterns can be replicated
-As the cut is made by the help of a laser beam, there is no direct contact of the work-piece with any cutting instrument, thereby eliminating the risk of material contamination.
-In laser cutting, as the area subjected to heat is very small, it reduces the chances of warping of the material.
-As the laser cutting machine does not require human involvement except for repairs and test runs, the incidence of accidents and injuries is also minimal.
-Efficiency of the machine is very high, and replicas obtained of the required design are exact copies of each other.
The disadvantages of using laser cutting include:
-high energy and power consumption
-When using laser-cutting for plastic, the fumes that the plastic produces when melted can be toxic. This means that the machine will need to be placed in a well-ventilated environment, which can take a lot of time and money to create.
-The laser-cutting process cannot be used for all kinds of metals. Copper and aluminum are unable to be cut with a laser because they are too thick and reflect too much light. Brittle, transparent materials such as glass and crystal also cannot be cut.
-Mass production is costly to initially set up
So, I conclude that in my view, the advantages far outweigh the disadvantages with laser cutting and if I were to invest in a company, I feel a laser cutting machine would be essential for C.A.M. (computer aided manufacturing). Even within many high street shops, I frequently see many clothes and accessories laser cut. It is very much on trend at the moment and I feel it is a great technological development and definitely as technology improves, the machines are sure to become more affordable too. The intricacy of laser cutting is beautiful, in my opinion.
Reference:
Braddock, S.E. (1998), 'Techno Textiles', Thames & Hudson Pub. (P.166)