Women's Sexuality And Body Size In Fashion & Art:
I conducted a human research experiment with a group of fashion students, who I have previously studied with in Luton. It produced alarming results about the image which is currently being portrayed in magazines about women in the 21st Century. It involved us, as a group, scanning and skimming through various fashion magazines, cropping out all the images of women that we could find and then creating collages from them. All of the women were depicted as idealised perfection, with all of them being very slim and made-up with flawless make-up and styled hair. A flawless, perfect appearance was being communicated about the females through all of the media images. This puts a lot of pressure on females to be a certain dress size and to look a particular way. Unfortunately, this sort of media coverage is a factor which sometimes leads to eating disorders and other mental health problems amongst females, especially insecure younger ones.
Upon doing this hands on research, I decided to look at how women have been treated and portrayed throughout history through fashion and art. So, it seems gender started to become an issue in Art & Design about 100-150 years ago. Gender equality, equal rights and recognition was starting to be addressed. Before then, the traditional artists were male and the female's work was overlooked. Traditionally, males were portrayed as kings, soldiers, warriors, royalty, peasants, hunters, priests, artists and musicians in art. They were never portrayed as doing feminine activities. Instead, they were portrayed as being masculine, strong, powerful and dominant. Females were traditionally represented as religious figures (spiritual), mothers (nurturing), mistresses, sources of temptation, or old crones(witches).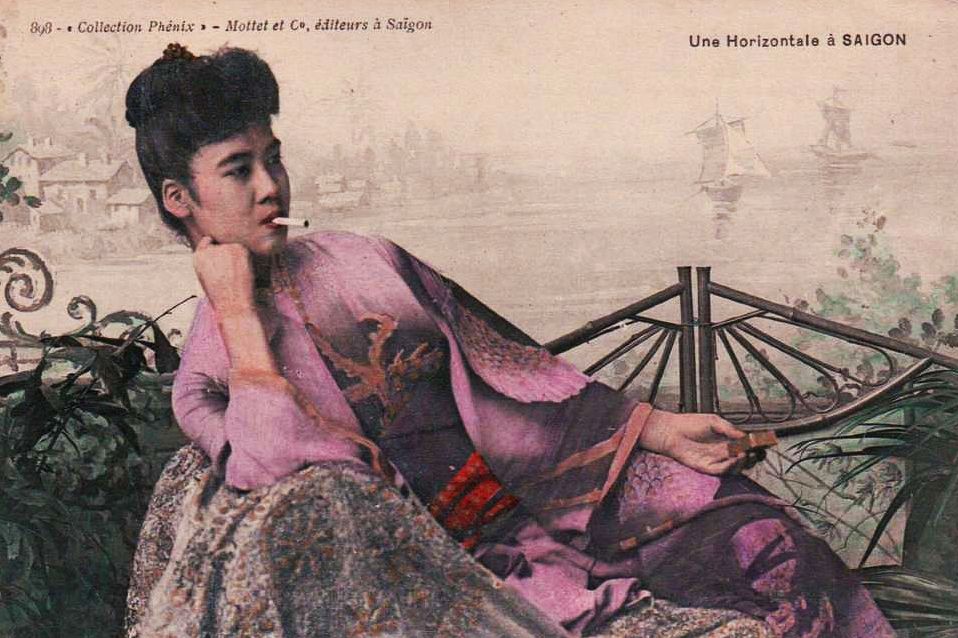 The piece of art named 'The Milkmaid' by Vermmer (1658), which may be seen below, is in my opinion a homely virtue. It shows modesty and hard work. It pays tribute to temperance & purity. Purity is indicated by Vermeer's stunning rendering of the highly polished copper pot hanging on the wall, reminiscent of similar shining metal containers in early Netherlandish Annunciation pictures, since a super-clean vessel was a traditional symbol of purity. Hard work is expressed throughout the composition, which – unlike other paintings by Vermeer, makes absolutely no concession to appearance or comfort. Instead, we are presented with a working environment featuring rough walls, roughly textured bread, bare wood, coarse baskets, and a maid with blunt features, rough hands and forearms, diligently focused on the task of preparing food for the household. This piece of art went against the trend because since the outset of the Netherlandish Renaissance (1400), the traditional iconographic meaning of milkmaids and kitchen maids was based on their reputation as amorous individuals; good-looking maids alongside various erotic symbols such as onions (reputed to have aphrodisiacal properties), wide-mouthed jugs (suggestive of the female anatomy), or involved in various erotic actions like inserting cooking spits into chickens.
In the painting below of 'Mr & Mrs Andrews', by Gainsborough (1750), it displays himself and his wife, on their estate, where he would have had hunting rights. The man looks relaxed, holding his gun and standing next to his dog. The lady is wearing an exspensive looking dress, probably made from silk. She is looking rather demure. The fact that she is showing her ankles in the painting refers to the eroticism in their marriage. Her lap appears smudgy and you can't quite make out what is going on there. Some say it is an indication of space left for when she will have a baby to hold on her lap. This painting is placing the lady into a maternal role. Mrs Andrews' somewhat stiff seated position is said to express her inferior and passive status, as she is placed on display like other assets of her husband.
In the painting 'Venus of Urbino', by Titian (1538), may be seen below. The identity of the nude lady has never been revealed but in this painting the love goddess is sensual and stares at the viewer, as if she wants to communicate something. She is voluptuous and curvy. She looks quite coy but not too brazen. Her face is symmetrical (scientifically known to denote attractiveness) and appears to be quite flushed. Eroticism, in the context of marriage, is implied through roses in the right hand, a vase of myrtle on the windowsill, a small dog curled-up on the bed and maids shown rummaging through a cassone chest containing the girl's bridal garments. It could be a painting of her wedding day or night.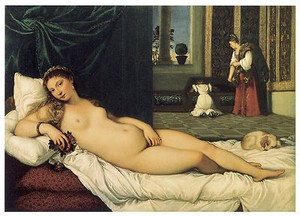 'Olympia', by Manet (1863), which may be seen below, shows a courtesan greeting her client to the French Salon. The jury for the 1865 Salon accepted this painting despite their disapproval of the subject matter, because two years earlier, Manet's Luncheon on the Grass created such a stir when it was rejected from the Salon. It was instead exhibited in Emperor Napoleon III's conciliatory exhibition—the Salon des Réfusés, or the Exhibition of the Refused. Crowds came to the Salon des Réfusés specifically to laugh and jeer at what they considered Manet's folly. They were afraid another rejection would seem like a personal attack on Manet. The reasoning was odd, but the result was the same – Olympia became infamous and the painting had to be hung very high to protect it from physical attacks. Manet was a Realist, but sometimes his 'real' situations shocked and rocked the Parisian art world to it's foundations. His later work was much tamer. The choker around the neck and the way the nude lady is confronting the viewer, with her gaze, are clues that the painting is of a prostitute.
So, for many years….
Women have become the object of desire for the spectator (men).
The process of looking has become one of ownership.
Painted female figures are complicit in their own objectification.
In the art form of the European nude, the persons treated as objects, were usually women. This unequal relationship alarmingly has been so deeply embedded in our culture and still actually exists today in the 21st Century, to some extent.
So, I conclude that my historical research, as well as the hands on group human research, of current fashion magazines, was very important to me because when I design fashion collections, I feel it is of utmost importance for me to design for all sizes, not just for size 8s for instance. A year and a half ago I designed a collection for many different sizes and also different ages too. The oldest model was 72 years of age. A fashion show was presented and it made the local newspaper too. It is in my opinion essential to make all women feel good, regardless of their size or age.
As a result of my conclusion, I intend to do further work in this area, as I feel many designers still to this day only show off their clothes with very young and slim models. This is not a realistic representation of the people in our world. Females, as well as males, are all different shapes, sizes, colour and age. That's what makes us unique and it should be celebrated. As stated by Bailey S. (2014) in 'Visual Merchandising For Fashion', it's 'about creating a story that customers will want to buy into.' Sarah Bailey has been a course director of the B.A. Hons. Fashion Visual Merchandising & Branding Degree Course at the London College of Fashion. Through reading this book and other literature, I admire her views very much. Diversity, in my opinion, is starting to be celebrated in some fashion adverts but I personally feel much more work needs to be done in this area to give all women body confidence. This winter season (2019), I visited the Nike Store (Oxford Street, London) and I was delighted to see garments on male and female mannequins, in a variety of sizes up to size 16. In my opinion, they are at the cutting edge of fashion and are clearly celebrating diversity and appealing to everybody. Their visual merchandisers, as far as I am concerned, are legends.
It's the only store though on Oxford Street which I had seen do this. In my opinion, this good practise needs to be spread more widely. I am going to speak to another M.A. student who works there to see if he knows the story behind the progress of these mannequins and to also speak to a visual merchandising member of staff there too. Goq Wan, a fashion consultant, author and T.V. presenter is one of my idols, as he has started to do work in women's body confidence. He knows how to make women feel good, regardless of their size or age. I intend to make contact with him very soon, so I can conduct an interview and hopefully shadow him for a day and share ideas.
Reference:
Bailey S. (2014) 'Visual Merchandising For Fashion,' Bloomsbury Pub. (P.148)