Blog Post 4: To What Extent Does Technology in Window Displays Help to Sell Fashion Products?
The Design Sprint, where I led the final group presentation, has given me the enthusiasm to conduct further research on how technology can be used effectively to promote fashion products. Part of our group's ethos was to include technology as much as possible in the popup store design. My findings, I am sure, will give me some exciting extra ideas which I can share with fashion companies and designers in the future.
As gender roles are becoming more equal and with the rapid development of technology which is evolving in our world, both males and females are becoming tech. savvy and really enjoying the benefits of it. So, with technological advances, what appeals to males and females is now merging more so than in the past.
Therefore, using technology in window displays is a very clever way to engage the public, catch their eye and hence draw them into a store and inevitably purchase. So, technology themed window displays are, at this point in time, an innovative way of catching the eyes of females as well as males. Many men also do not enjoy the experience of clothes shopping, especially if it is for their female partner. However, this tool could also entice more men into female stores too in the future.
The implication of leads (made from coloured ropes), sockets and plugs etc, which I personally saw in a high-end fashion store window display (New Bond Street, London, December 2018) amongst female garments and accessories is, in my view, truly innovative.
I feel it is a new trend and hence there seems to be little about it in books so far. Leads, plugs and technology vividly being shown in a high-end fashion store window display defies the conventions of how women's clothing have traditionally been sold in the past.
It is innovative because leads, plugs and technology have in the past been mainly associated with male dominated careers such as electronic engineering.
Also, seeing technological looking devices and toys, with metallic elements in a Prada Shop window display in Berlin, January 2019 is also very innovative too.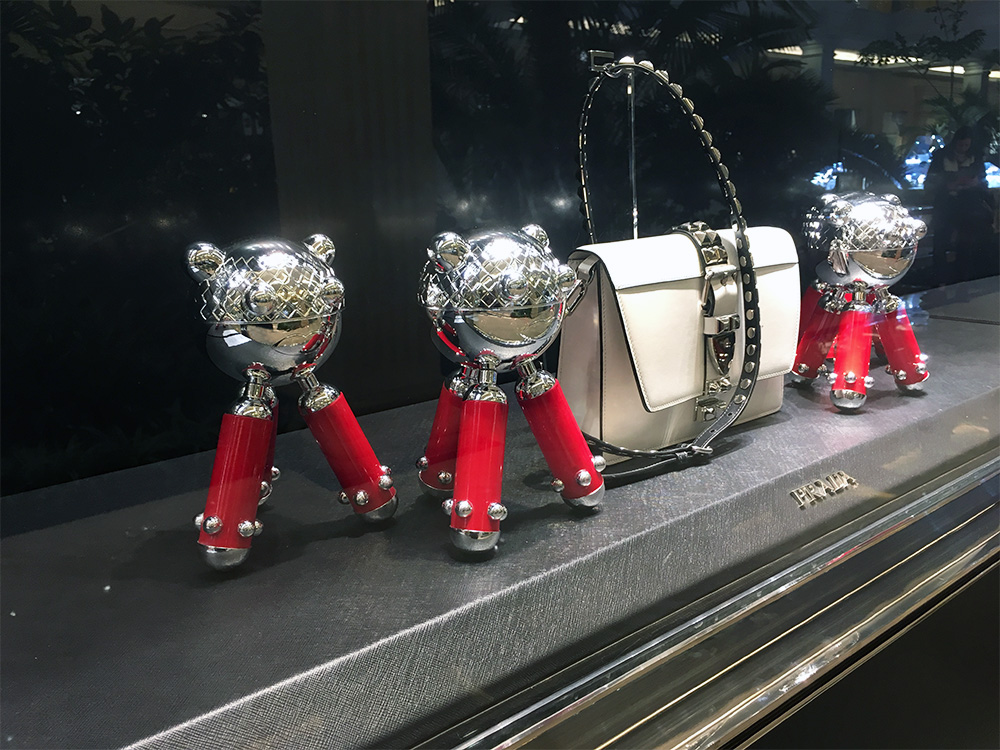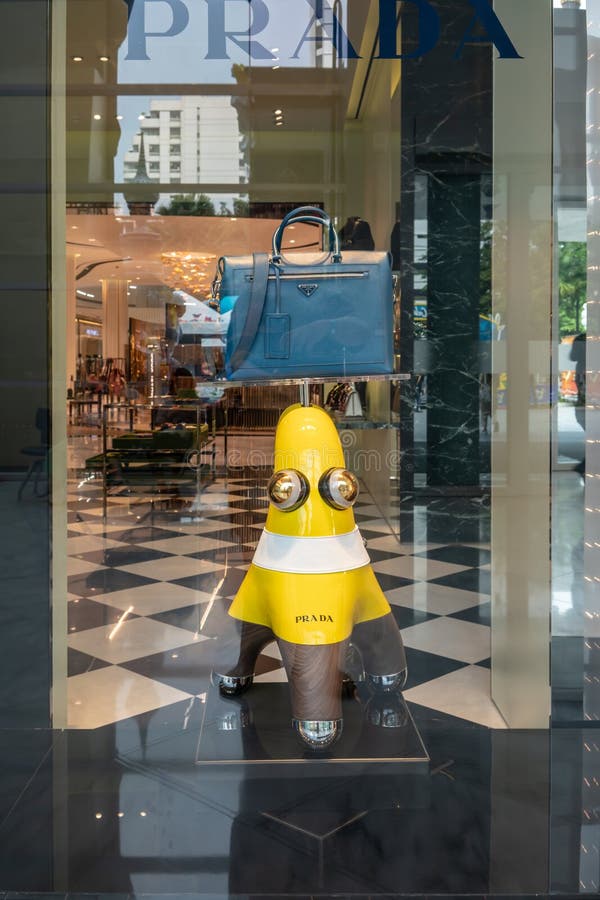 As stated in 'Retail Product Management, Buying & Merchandising', by Rosemary Varley (2001), 'Window displays have a particularly important role to play in communicating to the potential customer what the retailer stands for.' To me, the connotations linked with this particular window display were a creation of fun, with the use of gadgets which had metallic and bold block colours included too.
Technology themed window displays, to me, seem to be a new up and coming trend in female fashion stores, even though stores such as Nike have been using this tool for more years. Using technology to catch female's eyes to sell clothes is a very thought provoking subject for me and one which is happening right now too. I feel that gender neutrality is increasing in the retail sector of fashion display windows.
Bearing this research in mind, I conclude that technology in window displays most certainly is helping to sell fashion products in our art movement of Hypermodernism. I would like to continually do some further research on this in the future, as we all know that technology is the way forward and the way to catch a person's eye. I feel this research will help me in the future, when consulting fashion companies in the future.
Reference:
Varley R. (2001), 'Retail Product Management, Buying & Merchandising', published by Routledge, Chapter 11, P.188
Sources of Images
The window display photos were taken with my mobile phone in:
– New Bond Street, London Dec. (2018)
– Kurfurstendamm Rd in Berlin (2019)
Window Display images taken from the internet:
retaildesignblog.net
pinterest.com